EENY MEENY NEWS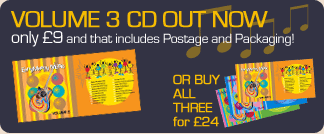 TUNE IN...
Acoustic guitar-led musical fun/singing/dancing/marching to nursery rhymes and songs from the musical.....but with lots of oomph!
DROP IN...
Music sessions for babies and toddlers up to 4 years with their
parent or carer with shakers, bells, bubbles and ribbons. No need to book, come whenever it suits and pay at the session you attend.
...AND GO!




HAMPSTEAD GARDEN SUBURB - NW11

The Free Church, Central Square, Hampstead Garden Suburb
£6 per child, £9 for 2 siblings

Friday 09.15 - 10am

Friday 10.15 - 11am

Friday 11.15 - 12midday



MUSWELL HILL - N10
St.George's Church Hall, Corner of Park Road & Cranley Gardens, Muswell Hill, N10
£6 per child, £9 for 2 siblings
Monday 09.30 - 10.15am
Monday 10.30 - 11.15am
Any enquiries call Eddie 07736 637975 or email info@eenymeenymusic.co.uk

Eeny Meeny Music is all about joining in and having fun

Eeny Meeny Music (established in 2007) and is a mix of nursery rhymes, traditional songs and popular tunes from Musicals, played live on guitar, in a relaxed atmosphere - prepare yourselves to have great fun at a music session for children and adults alike. The more you take part - the more the music takes over - the more fun you have. The little ones learn from the bigger ones, the big ones learn from the grown ups - so everybody taking part is essential. Soon all children learn the words and actions to the songs and will be singing them with you all week long.